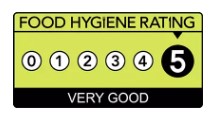 Green councillor and leader of the main opposition party on Reading Council Rob White raised concerns about food safety in Reading at a meeting of the Policy Committee recently. Speaking after the meeting he said: "I was very concerned when the council published the figures on the backlog for food hygiene and food standards inspections. Both backlogs are approaching 1000 premises due an inspection.1 With food hygiene, there has been a 330% increase in non-compliant premises in the town compared to the previous year.2
"I'm sure many residents use the excellent Scores on the Doors website (https://www.scoresonthedoors.org.uk) to decide where to eat. If a premises scores a zero, this means that the health of customers is at immediate risk and food is unsafe to eat. In this situation, the council will take the necessary action. However because the backlog is so large, there are many premises which haven't been inspected for some time. There will undoubtedly be some premises in this backlog which would score a zero if inspected and are unsafe to eat food from.
"The fault here clearly lies with the Labour administration for not prioritising this area. This team is understaffed and struggling to recruit. Labour councillors need to allow a higher wage to be offered to attract qualified applicants."
1 Food hygiene backlog is 852 premises due an inspection. Food standards backlog is 905 premises due an inspection. Figures from a council briefing.
2 See paragraph 3.6.1 of this report: https://democracy.reading.gov.uk/documents/s27758/Food%20Service%20Plan.pdf