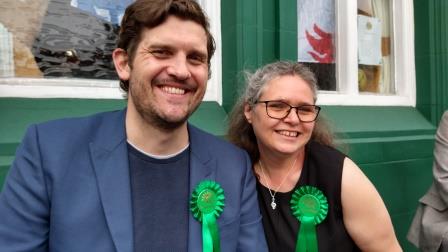 Amazing news, we have elected more Green councillors and overtaken the Conservatives on Reading Council. We are now the main opposition party. A massive thank you to everyone who voted Green and helped. If you are not already a Green Party member you can join here and help us make the local area fairer, greener and more affordable: http://greenparty.org.uk/join
In Park we held our three councillors (Cllr Rob White, Cllr Brenda McGonigle, and Cllr Josh Williams). In Redlands we held one councillor (Cllr David McElroy) gained a councillor (Cllr Kathryn McCann) but also sadly lost hard-working councillor Jamie Whitham. In Katesgrove we gained two councillors (Cllr Louise Keane and Cllr Doug Cresswell) and unfortunately community champion Kate Nikulina narrowly missed out.
This takes us up from five councillors to seven councillors on Reading Council. Promisingly we were also the second place party in many wards. Greens also made gains around the country. Thanks for the support everyone and a big thanks to everyone who has delivered a leaflet, knocked on a door or helped in another way.
In Wokingham we stood more councillors than we did last time and now have an amazing team working on building the party there.
Thanks again for all of your support.
Best wishes
Rob and the Green team
Cllr Rob White
PS Why not join the Green Party and help us make Reading fairer, greener and more affordable http://greenparty.org.uk/join